Wednesday, June 2, 2010
Posted by

tuan general
at 12:57 PM
No comments:

The appearance of a massive sinkhole in Guatemala City (map), Guatemala, on Sunday is thought to have been triggered by tropical storm Agatha, a violent tempest that struck Central America over the weekend.
From photographs, the new Guatemala sinkhole appears to be about 60 feet (18 meters) wide and about 300 feet (100 meters) deep, a hydrogeologist at the University of Kentucky—which explains how the sinkhole was reportedly able to swallow an entire three-story building.
Sinkholes can form when water-saturated soil and other particles become too heavy and cause the roofs of existing voids in the soil to collapse, Currens said.
Another way sinkholes can form is if water enlarges a natural fracture in a limestone bedrock layer. As the crack gets bigger, the topsoil gently slumps and develops into a sinkhole.
In either case, the final collapse can be sudden, Currens said.
The 2010 sinkhole in Guatemala (pictured) had likely been forming for several weeks or even years before floodwaters from tropical storm Agatha caused the sinkhole to cave in, the University of Kentcky's Currens said.
"The tropical storm came along and would have dumped even more water in there, and that could have been the final trigger that precipitated the collapse," Currens said.
Posted by

tuan general
at 12:46 PM
No comments:

Tuesday, June 1, 2010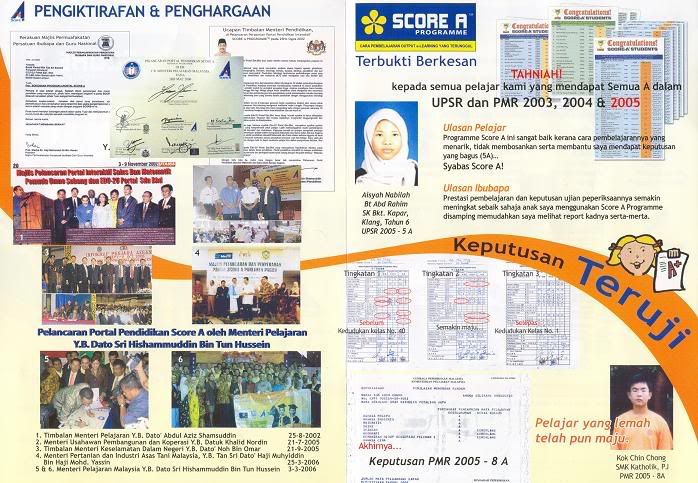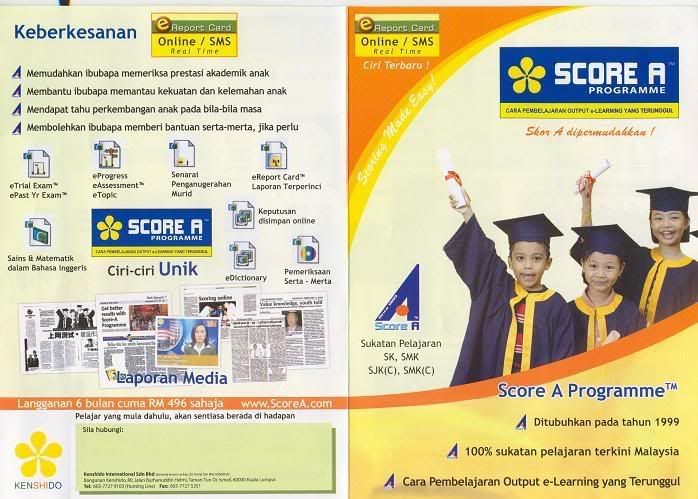 The key
to accomplish good grades is Output Learning™ - the ability to retrieve and apply what you have studied or learnt. Many students do only Input Learning - reading, studying, memorising & listening are only Input Learning - that is why students get average marks.
To excel, your children need Output Learning™. Discover how we coach your children using Output Learning™ techniques.
We have invested four years of research and development into this ultimate Output Learning™ tool that has been carefully designed to be in line with the school curriculum set by the Ministry of Education.
We will help and guide your children to -
BE EXAM READY & SCORE A'
s and endeavour the impossible to improve their work. Practice makes perfect. The will to succeed is important but what's even more important is... the will to prepare. Come examination day, your children will sail through the challenge with confidence and Score A's.
For more detail, please contact :
e-learning Consultant
*Fizal - 0193747525 (Pahang / Terengganu / Kuala Lumpur)
*Redzuan - 0134421810 (Kedah / Perlis / Kuala Lumpur)
[They will explain more detail about this programme]
- buat duit - tambah pendapatan - mudah - ringkas - sistematik - side income - kaya - jutawan - terbukti - berkesan - berpatutan - puas hati - berbaloi - cepat - prospek - teach - easy - money - rich - learn - internet - good - rahsia - bongkar - kongsi - bantu - melayu - malaysia - business - perniagaan - niaga - zrb - pemasaran - usahawan - rancangan - panduan lengkap - menjana pendapatan - percaya - benar - manufacturing - kerja - vacancy - ekonomi - bangsa - workshop - testimonial - bukti -
Posted by

tuan general
at 11:32 AM
No comments:

From September 2007 Japanese customers can order the Honda Civic Mugen RR. The Honda Civic Mugen RR might very well be the ultimate drive with a front engine and a front wheel drive.

The Honda Civic Mugen RR is 1239,66 kg which is almost 10 kg lighter than the standard Honda Civic Type R. The Honda Civic Mugen RR also has 15 bhp more which means it has 240 bhp at 8000 rpm and 160lb-ft at 7000 rpm.

Other upgrades on the Honda Civic Mugen RR include:
- new bodykit
- new brakes
- retuned suspension
- new wheels

- new tires
- Recaro sport seats

The production is

limited to 300 cars

and the price is almost $ 40,000 USD.
Posted by

tuan general
at 12:11 AM
No comments:

Monday, May 31, 2010
The impending demise of the FD2 Civic Type R is confirmed; Honda has announced that it will discontinue production of that manic machine after August 2010. However, Honda is out to sooth broken hearted Japanese enthusiasts with the 2010 model year Civic Type R Euro, which comes with mild exterior revisions and a "limited edition" tag.
The sharply styled three-door hatchback rolls off from Honda's Swindon plant in the UK, which is the only factory in the world to build the car. The first FN Type R units boarded ships from Southampton in October 2009 to make the long trip to Japan. Since it went on sale in November last year, Honda has shifted over 1,850 units.
The company says that the CTR Euro has been "especially well-received by buyers in their thirties to forties, who value a sports car as part of an upscale lifestyle." We can only presume that the buyer profile for the FD2R is younger and more "hardcore", which can also be used to describe its uncompromising ride quality.
While similar in basic concept (howling high revving i-VTEC engine, slick six-speed manual, super grip), the European Civic Type R is not the car we know with a different skin. The 2.0-litre engine makes 198 bhp/193 Nm, less than the FD2R's 221 bhp/215 Nm and the rear suspension is a torsion beam as opposed to double wishbones.
Local FD2R owners might want to hang on to their cars, which will very soon be "collector's items". The hatchback would be very expensive for Honda Malaysia to import, so this should be the last we'll see of official Type Rs in Malaysia. It was fun while it lasted.

Posted by

tuan general
at 11:54 PM
1 comment: